About
Lim Shue Churn was born into a musical family. Her mother Mdm Ching Guek Chow has been a well-known soprano while her late father, Mr Lim Tiap Guan was a composer and music teacher. Shue Churn began her first violin lesson under her father.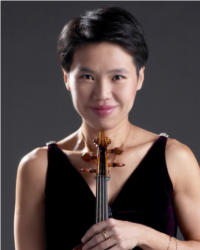 In 1978, Shue Churn won the first prize in the Open Section of the National Violin Competition, sponsored by Yamaha. Since the establishment of the Singapore Symphony Orchestra (SSO) in 1979, she has been playing in the first violin section, first as a trainee, then as a full-time member of the Orchestra from Dec 1981 till Oct 2010.
In July 1983, she gave her debut performance of Paganini's Violin Concerto No. 1 with the SSO under the baton of the late Shalom-Ronly-Riklis. Shue Churn has also performed three successful recitals in 1996, 1997 and 1998 with pianists Low Shao Suan and Chan Soo Ping.
Besides being an active orchestral musician, Shue Churn is also heavily involved in chamber music. She performs regularly in the VCH Chamber Series and has organized various chamber concerts featuring local musicians.
More recently, Shue Churn has been performing with Take 5 , a piano quintet formed with pianist Lim Yan and SSO musicians Foo Say Ming, Chan Yoong-Han and Chan Wei Shing (read more about Take 5 Piano Quintet)
Shue Churn is also keen on promoting works by local artists. She has premiered Tan Chan Boon's award winning composition for violin solo Apres un Verre and Grand Caprice, as well as Tan's three String Quartets.
Shue Churn's community involvements include performing for the Arts Education Programme, organized by the National Arts Council and the 2005 Concert for Hope, in aid of the earthquake and tsunami victims.
Article on SSO's newsletter - Bravissimo! : Lim Shue Churn - Veteran Violinist Leaves SSO After 31 Years