Take 5 Piano Quintet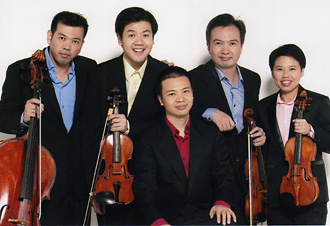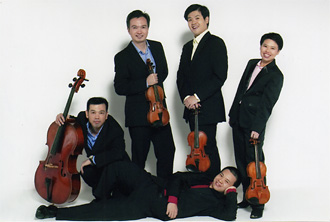 Take 5 Piano Quintet is a chamber music series initiated in 2007 by five prominent professional Singaporean musicians to showcase masterpieces in the quintet chamber repertoire. Its debut concert on 19 September 2007, featuring a premiere of Elgar's Piano Quintet as well as Franck's Piano Quintet, was hailed as "outstanding" and "intense" by The Straits Times.
Lim Yan, piano - "... so prominent is his involvement in the music scene that the National Arts Council awarded him the Young Artist Award in 2006. ... "
Foo Say Ming, violin - "... accepted into the class of great violinist Pierre Amoyal at the Conservatoire de Lausanne (Switzerland), where he was conferred Virtuosite (Premier Prix avec Felicitations du Jury) ... "
Lim Shue Churn, violin - "... Since the establishment of the Singapore Symphony Orchestra (SSO) in 1979, she has been playing in the first violin section, first as a trainee, then as a full-time member of the Orchestra from Dec 1981. ..."
Chan Yoong-Han, viola - "... the 2000 Shell-NAC Arts Scholar and winner of the 2004 NAC Young Artist Award ..."
Chan Wei Shing, cello - "... studied with Prof. Angelika May at the University of Music in Vienna and subsequently with Prof. Rudolf Leopold in Graz, Austria. In 1996 he was awarded the Masters Degree of Arts major in Cello Performing. ..."
Upcoming Performance
Past Performances
25 Mar 2012, 7:30pm, Esplanade Recital Studio
Ottorino Respighi: Piano Quintet in F minor (1902)
Béla Bartók: Piano Quintet in C major (1904)

04 Sep 2011, 7:30pm, Esplanade Recital Studio
Amy Beach: Piano Quintet in F sharp minor, Op.67 (1907)
Ernest Bloch: Piano Quintet No.1 (1923)

01 Sep 2010, 7:30pm, Esplanade Recital Studio
Jean Francaix: Eight Bagatelles
Ernest Chausson: "Chanson Perpetuelle" for Voice and Piano Quintet
Ernest Chausson: Concerto in D major, Op.21 for Violin, String Quartet and Piano

6 Dec 2009, 7:30pm, Esplanade Recital Studio
Robert Schumann: Piano Quintet in E flat major, Op.44
Erich Wolfgang Korngold: Piano Quintet in E major, Op.15 (Singapore premiere)

17 May 2009, 7:30pm, Esplanade Recital Studio
Dimitri Shostakovich: Piano Quintet in G minor, Op.57
Joyce Beetuan Koh: 'What'll we do?' for Piano Quintet (commissioned)

17 August 2008, 7:30pm, Esplanade Recital Studio
Kelly Tang: Quintet for Piano and Strings
Antonin Dvorák: Piano Quintet No. 1 in A major, op. 5
Johannes Brahms: Piano Quintet in F minor, op. 34

30 March 2008, 7:30pm, Esplanade Recital Studio
Erno Dohnányi: Piano Quintet No. 1 in C minor, op. 1
Antonin Dvorák: Piano Quintet No. 2 in A major, op. 81

19 September 2007, 7:30pm, Esplanade Recital Studio
Edward Elgar: Piano Quintet in A minor, op. 84
Cesar Franck: Piano Quintet in F minor

[ Review ]