Links

Luthier: Tong Mingxi
Resident luthier of The Rin Collection

"AmberCraft Violins was set up to assist the local string community in bringing the best out of their instruments. We offer comprehensive repair, restoration and maintenance services for violins, violas and cellos of the most exacting standards. We specialize in the sale of old, quality European violins, violas and cellos. Our expertise in repair and restoration works further enhances the sound quality and overall performance of the instrument. "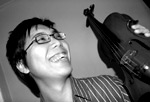 A private violin teacher in Singapore by day, an internet marketeer by night. RhapsodyInMusic.com (both the jazz and classical flavours) was conceived, designed, developed and maintained by Jay. Locate him at jaycheng.com.